FX1 ELECTRIC SCOOTER


The FX range of electric scooters is the most stylish and eye catching of all the scooters. The ultimate in lightweight technology, the FX1 is ideal for commuting as its low weight means it's easy to carry between journeys., the FX1 has a unique rear brake in addition to handlebar brake and can be used manually as well by simply turning off the power supply thus greatly extending the range.
The FX1 electric scooter runs on Ni-Cad batteries, this makes it extremely light and easily transportable with short charge times.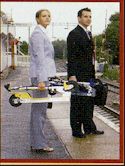 Maximum Speed 12 km/h
Maximum Range 8km
Motor Power 150 watts
Battery Capacity 12v 4.5 A/h Ni-cad
Weight 8.5kg
Maximum Rider Weight 90kgs
Charger Voltage AC 90/260v
Braking System Rear friction and Power cut off
Use Commuting
Product Specification - FX1 ELECTRIC SCOOTER
build_table('viking',array('fx1scoot')); ?>